Latest from media
18-11-2019
SpaceLand City at the first Global Conference for Emerging Countries
search "Viberti" on
06-11-2015
Space & Sea
Cafè Scientifique - 19 novembre 2019 dalle ore 18:00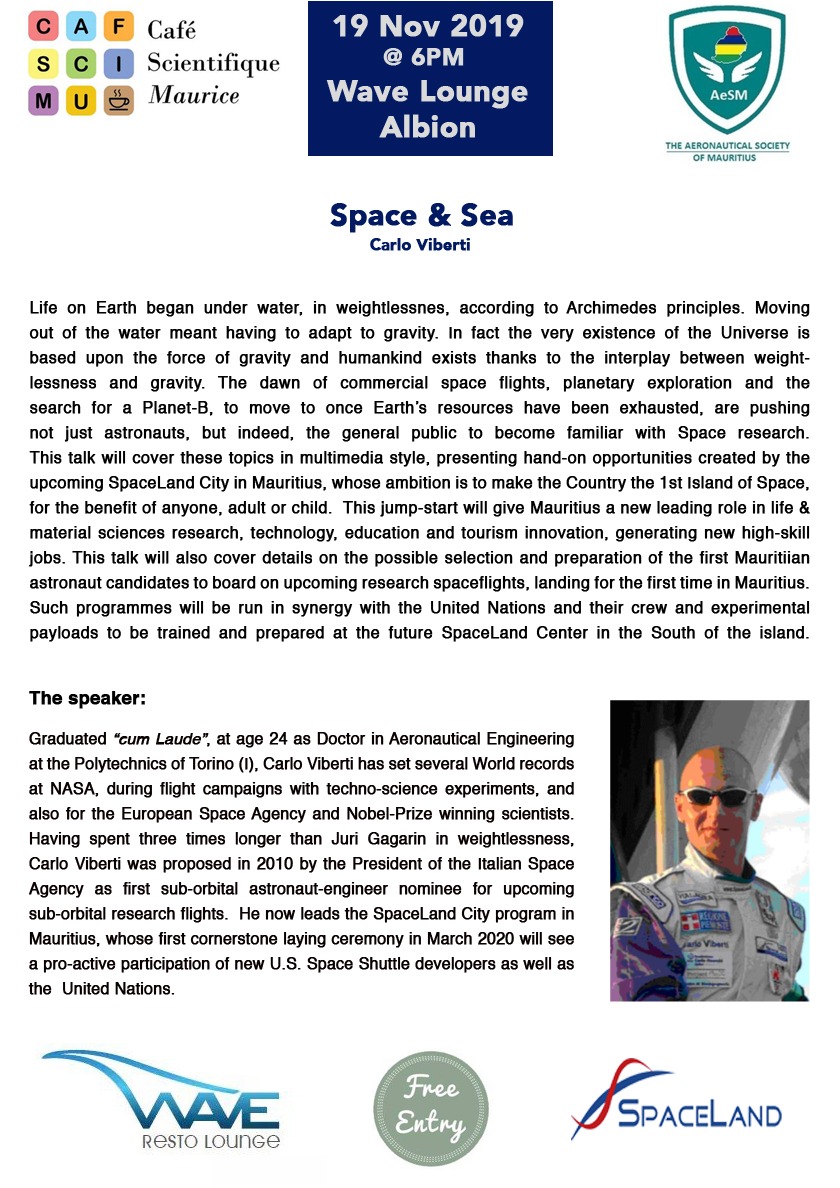 SpaceLand will soon open the doors of Space to Mauritius, by building a SpaceLand Microgravity training Centre and facilitating the landing of the future UN Space Shuttle flights.
21-07-2017
SpaceLand endorsed by the President of Republic
The SpaceLand Center presented by the Head of State of Mauritius at the UNITED NATIONS
07-05-2016
Weightless biomed and pharmacological R&D, orbital debris clean-up technology testing and S.T.E.M. education are among the key-disciplines for the public microgravity flight training which COSMO SpaceLand is organizing this year, preparing for new and unprecedented "open" microgravity R&D and educational flight campaigns in Africa, Asia and America.
All will be centered at the being-developed SpaceLand Center in Mauritius.
At this world's first Center of Excellence for Microgravity, entities and users from all over the world will benefit from unique ground, underwater and free-fall/drop-tower facilites, designed by the group's senior engineers and architects from Italy.
Among the goals of the SpaceLand program, there is also the transfer of state-of-the-art technology and science results from the microgravity, spaceflight and satellite sectors into th
dettaglio
27-05-2015
Press release on SpaceLand by the 2006 Winter Olympics Region
27-05-2015
Carlo Viberti's profile summarized on the reknown Russian website
20-10-2017
L'ING. CARLO VIBERTI
candidato primo ingegnere-astronauta sub-orbitale,
in visita a Nizza Monferrato, ospite dell'Agriturismo TENUTA LA ROMANA
e del Ristorante LA RISERVA del GUSTO
in preparazione alla presentazione di SPACELAND su invito delle NAZIONI UNITE